I have been living in the big city for a while now. I figured I had seen most everything that could be seen. I have had methheads sit beside me on the bus. Have had aggressive homeless people ask for money and seen people screaming at nothing in the evenings. I hear the people going through the garbage in the alley at night (makes me want to get a shredder), but nothing could really prepare me for what I saw tonight.
I was by myself tonight waiting for the bus in a crappy part of town. Theres lots of people around, but my friend Peter who sits on the bus with me was away today. So as I was walking up the stairs to the bus stop, I see a guy ahead of me. Now, I have seen people wear capes, not common, but have seen it. He looked a little lumpy in his cape. As I got a little closer, I saw the head on the person was lumpier than what most people are. Started looking like this guy had mumps...but no, it then hit me that this person must be wearing a mask. When he stopped at the bus stop, I got another pretty good glimpse of him and yes, he was wearing a mask, a Gas Mask!!! That was one of the creepiest things I have ever seen.
My imagination went crazy. At first I thought, hmmm, does he look like the type to blow up a bus? Nah, maybe not blow up, but poison, he could poison a wack of people. Saw his face again, he had glasses and longish hair. Couldnt see much else after that, cause again, the gas mask was crazy huge. Started thinking, do I really want to take this bus? Well, I kinda want to get home, so I got on with the my Gas Masked friend, but I sat at the back by the doors, I had an escape plan! I pitied the people sitting near this guy, if he went off, I wasn't about to go with him like they would. Some girl, who was kinda stupid, saw this guy and asked him if he was ok. You just don't do that, you leave those crazies the hell alone!
And now to finish my story. The caped gassy man got off the bus a few stops ahead of me, we didn't blow up or get poisoned, but man, I never want to see anyone do that again.
Now that my imagination isn't taking over as completely, I think that this person was a emo kid looking to make a statement or looking for attention. He definatly got it that was for sure. Well done my caped gas man, well done.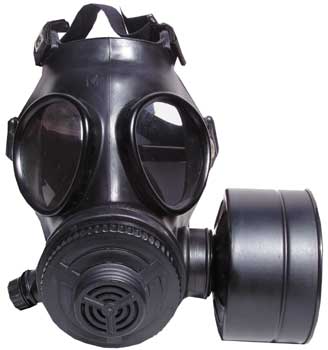 Just try and imagine seeing this at night in the creepy part of town on a caped man....spooky!